Uncommon moves in technology and transformation
In recent years, Perfect Image has made major capital investments in our manufacturing and operating environments – and advanced technology is at the heart of it all. Some of our industry's most disruptive digital technologies have helped us transform into a client-centric partner that holistically supports our clients' marketing strategies and increases return on their marketing investments.
Our biggest recent upgrades, highlighted below, are uncommon for a printer of our size, but they're great examples of our commitment to excellence in our craft, and in extending world-class solutions to clients and growing the skills of our remarkable team.
Kodak Prinergy Workflow: Streamlined prepress automation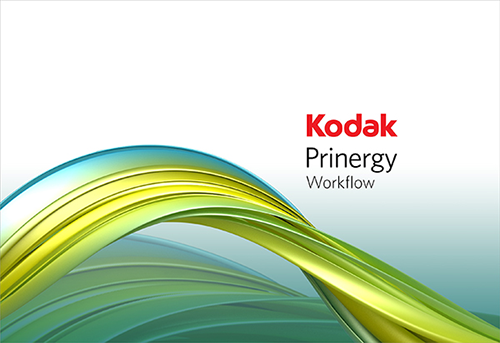 Kodak Prinergy Workflow is the printing industry's leading prepress automation software. Its powerful, integrated software reduces our team's manual touchpoints, improves accuracy and efficiency, drives print production efficiencies, ensures accurate color reproduction across our presses, mitigates human error, and frees up our team to focus on client needs and satisfaction.
Kodak ColorFlow Pro: Consistent, accurate color reproduction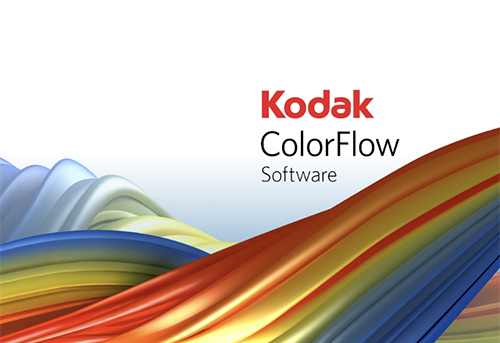 Kodak ColorFlow Pro is the integrated G7 color management software that ensures all color control elements, curves, ICC profiles, and spot color recipes are correctly used together across all Perfect Image printing presses. As a G7 Master Facility Qualified printer, we use this technology as a pre-calibrated color management process to ensure every job we produce for our clients meets specific, accurate and consistent color guidelines.
Kodak InSite Prepress Portal: Real-time collaboration with clients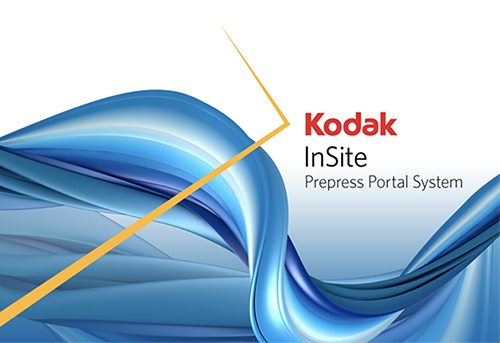 Kodak InSite is a secure web portal to our prepress environment, where clients and our team work together with print jobs in real time – anytime. Clients use it to upload jobs to us and review, proof, correct and approve individual pages, properties and jobs. The feature-rich interface and friendly working environment bring major efficiencies to print project management and production.
DocketManager: The most efficient daily operations

DocketManager is the smart management information system (MIS) that was created by printers specifically for printers. Its integrated tools help Perfect Image deliver exceptional client experiences by streamlining everything from client information management to estimating, order entry, print production, inventory management, online store management, fulfillment, invoicing and all other touchpoints in daily operations.
Our Hybrid Manufacturing Environment
The technologies highlighted above gave Perfect Image the solutions we needed to integrate our entire hybrid manufacturing infrastructure into one common workflow. Our integrated internal workflow ensures that consistent, accurate color management and production efficiencies are achieved across all our industrial strength presses…
Kodak NexPress ZX3300 Digital Production Color Press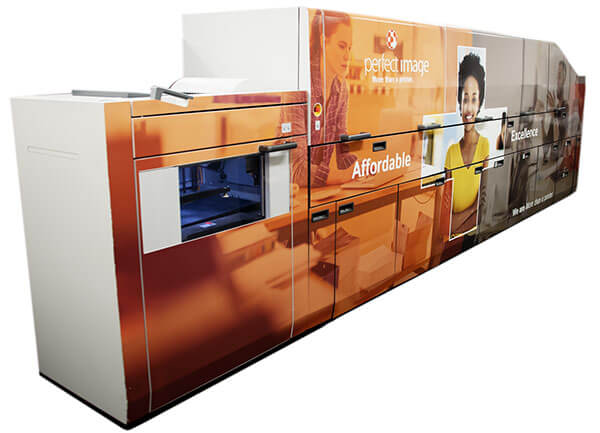 Our 5-color digital press accommodates industry-leading productivity, unique printing capabilities, a wide range of substrates, offset-quality paper handling and image reproduction, and sheet sizes up to 39.37" in length. Our clients enjoy the best in scalable variable digital technology for one-on-one, customized communications. Variable database management allows us to change text, graphics and other images on individual pieces, and dimensional printing capabilities add a three-dimensional, tactile element to printed pieces.
Komori Offset Printing Press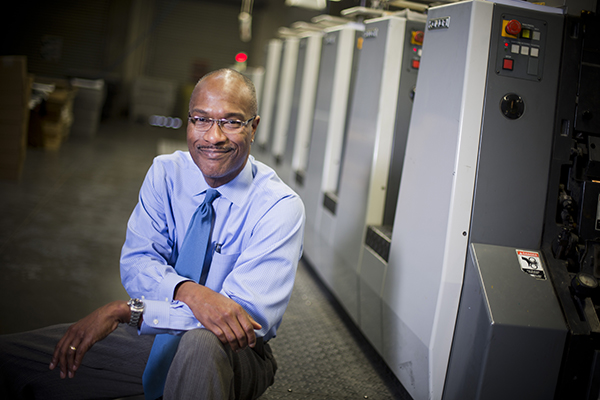 Offset printing is the ideal method for demanding formatted designs and color projects. Our high-speed, six-color, offset press with aqueous coater produces superior-quality print with maximum high-resolution images, solid coverage and color matching, and it accommodates specialty papers and finishes. UV LED technology accelerates production by instantly curing specially formulated inks on a wide range of substrates. Inks, adhesives and coatings dry as they hit the surface of many types of materials beyond paper, such as foil, metallic, holographic, acrylic and many other substrates.
EFI VUTEk LX3 Pro Wide Format Digital Printer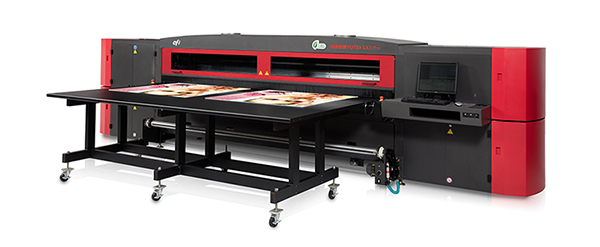 We give our clients a big edge with our versatile VUTEk high-performance, high-volume, hybrid flatbed/roll-fed digital printer. This is the ultimate workhorse for large format and custom-cut indoor and outdoor print communications, producing eye-popping images with bright, consistent and accurate color. This powerful press prints direct to almost any rigid or flexible surface, such as vinyl, wood, fabric, metal, foam, canvas and plastics, just to name a few. It is ideal for printing environmental graphics, signage, oversized banners, custom cut-outs, specialty boxes, end cap displays and other point-of-purchase materials, and many other applications. Our wide format printing platform also features the rugged Kongsberg X Series cutting router and digital finishing system.